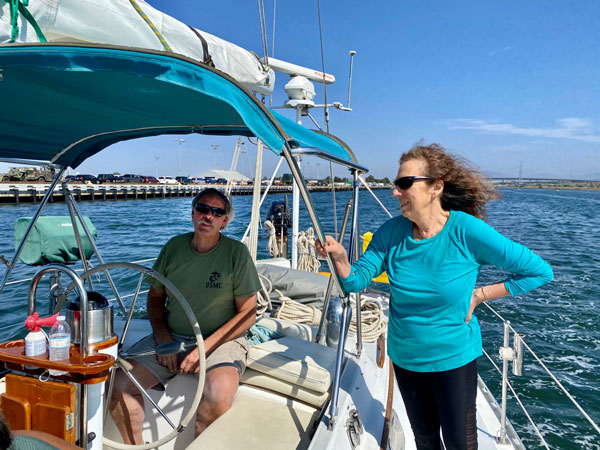 Please meet Russ and Debbie Noorda. You may know them as the couple that spends their winters in Mexico on Intrepid, a Hylas 44, cruising the Sea of Cortez, or maybe you know Russ as the owner of Tahoe Sail and Rigging. Either way they are sailors at heart, and here is their story.
Russ and Debbie met in the 80's as single parents at the Day Care Center their children attended. In 1995 they married and combined their beautiful families. Russ has two children and Debbie has one, and now they have two adored grandchildren.
Russ and Debbie permanently moved to South Lake Tahoe, the place where Russ grew up, in 1994. They purchased a Catalina 27 and started sailing on the lake every chance they could. Debbie was a novice sailor who fell in love with the sport. Russ had been boating for most of his life and had experience crewing on keelboats in Southern California while in the military.
Russ and Debbie joined the Lake Tahoe Windjammers Yacht Club in 1995 and started participating in racing on the lake and in San Francisco Bay with other club members. They jointly were Cruising Captains for LTWYC for many years planning boating outings on the lake. Debbie held many LTWYC board positions including Commodore, Vice Commodore, Secretary, Treasurer, Membership Chair and Communications Chair and Russ has been Commodore, Parliamentarian and Bosun's mate.
In 2001, Russ and Debbie sold their Catalina and purchased a Morgan Outland 41, Zephyra, Russ earned his Captain's license, and they started doing day charters along with cruise outs and sailing parties with members and friends. After five years of sailing and refitting Zephyra on the lake, she was trucked down to San Francisco Bay where Russ got a job at Svendsen's in Alameda and continued readying her for ocean voyaging.
In the fall of 2007, Debbie and Russ sailed Zephyra down to San Diego where three Tahoe crew met them for the 2007 Baja Haha, which is a rally from San Diego to Cabo San Lucas. They then spent 11 months in Mexico, including an extremely hot summer in the Sea of Cortez, before working their way through the Latin American countries of El Salvador, Honduras, Nicaragua, Costa Rica and Panama. After Panama they turned left and crossed the Pacific to New Zealand via the Galapagos, French Polynesia, Cook Islands, Niue, and Tonga. After living and working in New Zealand for seven months, Russ and Debbie sold Zephyra and flew home to California to resume their life in South Lake Tahoe.
In 2010 they moved back into their home, Russ reopened his sail and rigging business, Debbie went to work and they both became active in the Windjammer Yacht Club and the sailing community. Their next boat was Valkyrie, an Ericson 35 Mk II, where they enjoyed sailing her for many years.
Russ and Debbie bought their next ocean cruiser, a Hylas 44, Intrepid, and readied her for the 2021 Baja Haha. They were joined by three South Lake Tahoe Windjammers Yacht Club members as crew and had a great sail to Mexico. The plan for the near future is six months in Mexico on Intrepid cruising the Sea of Cortez and six months in Lake Tahoe every year.
Last year the South Lake Tahoe Windjammers Yacht Club acknowledged the Noorda's for their years of service to our Club. Thank you, Russ and Debbie, and keep on living the DREAM…