Linda Gordon – Vice Commodore is our first SLTWYC Member Spotlight. Who is this fabulous woman who has and continues to do so much for our Yacht Club?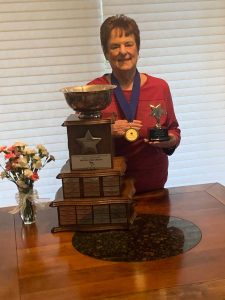 Linda is from the San Jose/Freemont area in the SF Bay Area. She worked at O'Connor Hospital for 38 years as a nurse specializing in Coronary Care & Arrhythmia's. She met her husband Gary in the swimming pool at their apartment in 1977 & they married shortly thereafter. They have 2 step daughters & 3 grandchildren. After retirement they moved to Roseville and to their family-built South Lake Tahoe Cabin.
Gary introduced Linda to boating starting with small boat racing in a Lido 14 as members of the Fremont Sailing Club, which the couple still belongs to today. They then moved on to Power Boats; going bigger until they had a 42 foot Sea Ray Sports Fisherman and now a 21 ft. Bayliner Capri located at Pirate's Lair in the Delta.
Linda and Gary were members in the OxBow Yacht Club in the Delta from 1991 until it recently disbanded. Gary & she are both Past Commodores of Yacht Clubs, and are also active in The International Order of the Blue Gavel. This is an organization of Past Commodores, in which Linda manages their Ship's Store.
In 2010, Linda and Gary joined the South Lake Tahoe Yacht and soon became active members. Starting in 2012, they became the Delegates to PICYA, the Pacific Inter-Club Yachting Association. Linda serves on the Scholarship Committee & the Opening Day on the Bay Committee for PICYA.
In 2018, while Linda was Commodore of SLTWYC & David Young was Commodore of Windjammers, we managed to start working on joining the two clubs. Once completed, she became the Vice Commodore, and as she says, she is "much better at putting on parties than dealing with sailing issues."
Linda has been awarded several awards and recognitions:
In 2018, she was awarded the Jo Bates Memorial Delegate of the Year Award. This award goes to a Delegate from one of the 108 PICYA member clubs who has given of his or her time and effort for the greater good of the boating community.
In 2022, Linda received the Silver Star Award at the Commodore's Ball Change of Watch held at the Sequoia Yacht Club in Redwood City for the Delegate who is recognized for their diligent service to his or her Club.