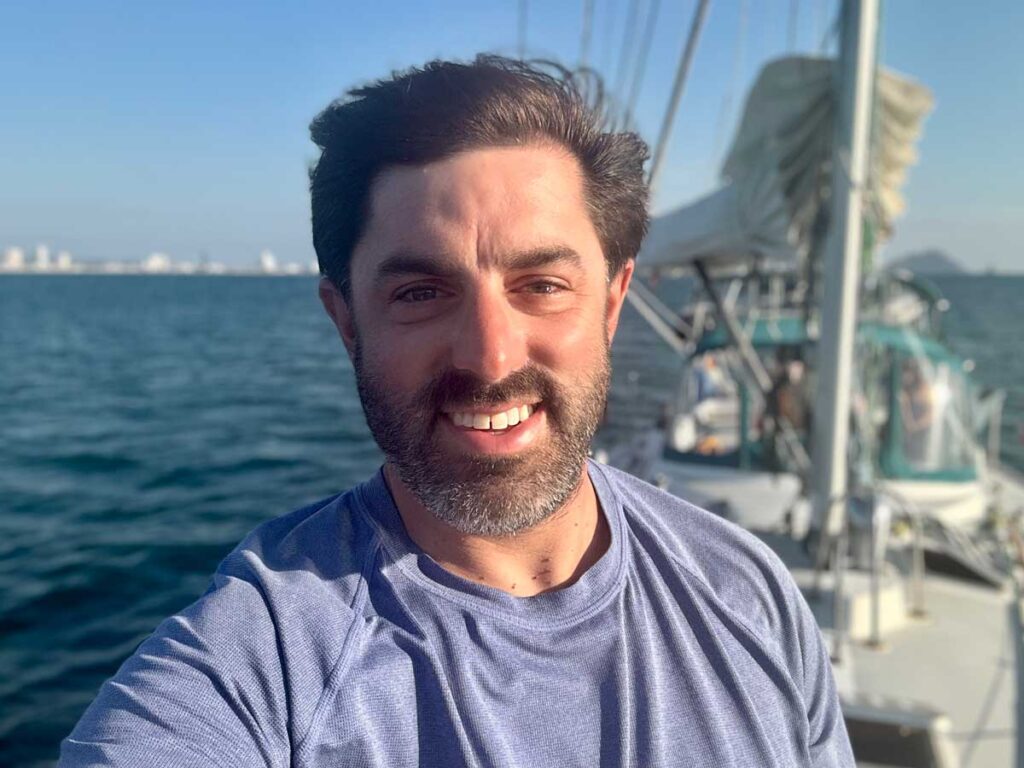 Our June Member Spotlight is our very own Commodore, Richard Panuschka, who has an amazing life story. Thank you Richard for all you do for our SLTWYC.
Richard was born in Vienna, Austria and speaks German fluently. He moved to California (first Orange County, then Sacramento) in the 90's. Much of his childhood was split between Northern California and Austria. He returned to Vienna for his last 2 years of High School and passed his A-Levels (Matura) in 2006.
College, he says admittedly, "took a VERY long time!" There were four years spent at LTCC and another two years after that at UNR with no degrees from either school. He finally found his way to Montana State University, where he spent three years before graduating with a B.S. in Snow Science in 2018.
Richard currently spends his summers on the water working for a small environmental consulting firm focused on addressing the aquatic invasive species problems around Lake Tahoe. And in the winters, he happily gets to teach skiing at Heavenly. It's quite the lifestyle!
He has been racing sailboats with his dad since he was about eight years old. His dad is a veteran of the 1984 Olympics in Los Angeles where he competed for their home country, Austria, in a Flying Dutchman. Together, they raced dinghies throughout the Bay Area and Sacramento/San Juaquin Delta, and occasionally in some Sierra lakes.
While living in South Lake Tahoe, Richard has spent the better part of the last ten years sailing with the Noordas aboard their Ericson 35-II, Valkyrie. After participating in several seasons of Windjammer races, he was presented with an opportunity to purchase an Ericson 35-II of his own, and in the fall of 2020 he took owndership of Lov'n Life from Ernie Jones. Over the course of this spring, he completed a MAJOR refit of Lov'n Life's mast and rigging and he and his crew enthusiastically look forward to an exciting boating season on Tahoe this summer.
As a ski instructor, Richard is certified by the Professional Ski Instructors of America (PSIA) as Alpine Level II and Adaptive Level I with a concentration in cognitive disabilities, and he is actively working towards his Alpine Level III certification.
Richard recently completed USCG certification and is now a licensed 50-Ton Captain. Earlier this year, he was voted in as Commodore of the South Lake Tahoe Windjammer Yacht Club and thanks the Membership for this designation.