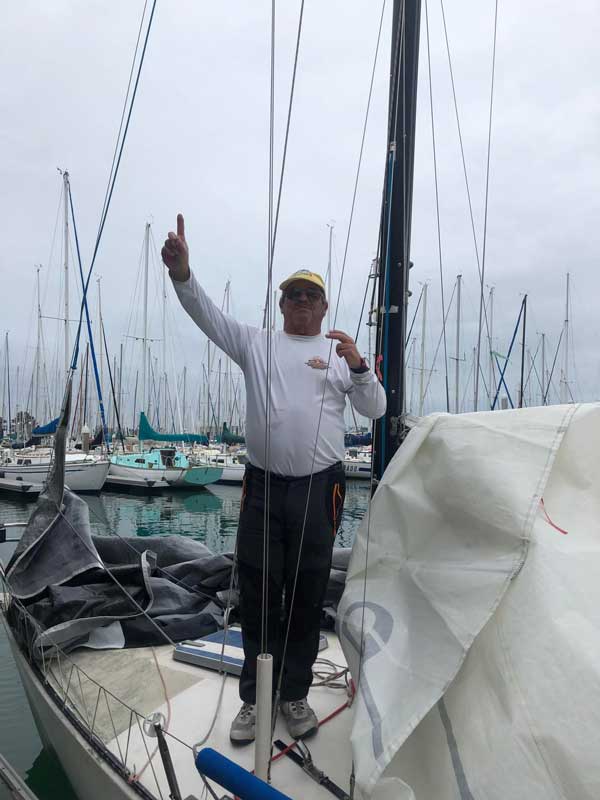 We are pleased to have Steve Katzman as our May Spotlight Member. He has been a lifelong "Water/Snow person", swimming, surfing/sailing in the warm Southern California waters, or working in the ski industry most of his life. Both the mountains and lake were a perfect match for Steve and his move to South Lake Tahoe in 1981.
Growing up as a teenager in Southern California, Steve initially learned to sail with his girlfriend. In 1967, he was drafted into the US Army and served for 2 years, where he sailed in the many lakes across Germany. After serving our country, (thank you, Steve) he moved to Mammoth, California and became a ski instructor. However, he continued sailing, which entailed many road trips to Southern California for Wednesday night races and offshore racing. Steve finished his education at Sacramento City College and acquired a degree in nursing and became a registered nurse.
His enthusiasm for racing started one Sunday afternoon in 1983, where he witnessed a Regatta just off Reagan Beach. He was instantly hooked and joined the Windjammers Yacht Club and sailed whenever he could. Once he became a member of the Yacht Club, he then had the privilege to sail on several boats with a long list of sailors:
Glen Gibb and his Wiley Wabbit
Pat Mitchell on his Santana 525 and Moore 24 … Pat and Steve Double Handed on a light ship race out the gates of San Francisco
Dave Wakeman on a boat called 23 Skidoo.
Lester Robertson on his Moore 24 Legs. Lester encouraged him to race in the San Francisco Bay.
Don Newman on his Corsair and Olsen
Finally in 1985, he purchased his first Keel boat, a Santana 20 named "Madman Across the Water". He sailed in many Windjammers races and the San Francisco Bay, with success. He was asked to crew on an Express 27 with a friend and loved the boat so much that he purchased "Dianne" in 2003. Dianne is the first ever Express 27 made, hence sail number "0" and was the prototype for all subsequent Express 27 models. The rest is history for "Dianne" and Steve, as the two have won many races, both South Lake Tahoe including 2 Tahoe Cup and many San Francisco Bay races over the last 20 years. Sailing is his happy place!
Our sailing community is very grateful for Mr. Katzman's service to our Yacht Club over the last 36 years. Of these 36 years as a Member, he has served 15 years as an Officer – approximately 12 years as Rear Commodore , 1 year as a Commodore, and filling in on the board when needed. Steve has also contributed and authored many of the race courses, having designed and placed marks to provide accuracy on windward-leeward courses. Additionally, he was instrumental in updating our current racing instructions, beer can racing instructions, and many other documents to reflect the most current trends in yacht racing.
Thank you again Steve for your years of Service and being a fierce competitor.